Help to Buy Scheme
How does it work?
A mortgage supported by the Help to Buy: mortgage guarantee scheme works in exactly the same way as any other mortgage except that under the scheme the Government offers lenders the option to purchase a guarantee on mortgage loans.
Because of this support, lenders taking part are able to offer home buyers more high-loan-to-value mortgages (80-95%).
You will still be fully responsible for your mortgage repayments. So if you have a 5% deposit, you will need to take out and pay back a 95% mortgage.
Example: for a home with a £200,000 price tag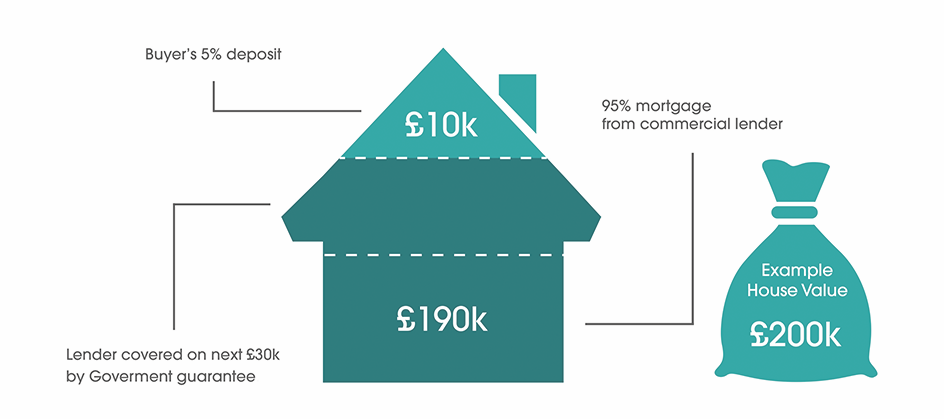 Who is eligible?
A mortgage under the Help to Buy: mortgage guarantee scheme works like any other mortgage. Your lender will check that you can afford the mortgage and that you do not have a history of payment difficulties.
To qualify for a mortgage supported by Help to Buy: mortgage guarantee:
The property you are purchasing could be an existing or new-build home in the UK, priced up to £600,000
You must not own any other property anywhere in the world at the time you buy your home supported by the Help to Buy: mortgage guarantee scheme
Your mortgage must be a repayment one, not interest only. Offset and guarantor mortgages are also excluded from the scheme
You can't let out the property to somebody else
Your mortgage can be taken out by an individual or individuals but not by a company
You don't have to pay any additional fee to Government to get a Help to Buy supported mortgage
The size of the mortgage you apply for must be less than 4.5 times your income
How to apply
The Help to Buy: mortgage guarantee scheme is offered by mortgage lenders across the UK. You can apply for a mortgage through participating high street lenders or through a mortgage broker. Your next step is to find your home and talk to your lender. Look out for the Help to Buy logo.
If you are Thinking of selling or have any questions on help to buy mortgages please call us today on 0121 232 4643 or email us at cm@abode-residential.info